This page is about the Hello Kitty's Furry Tale Theater episode. For other uses, see Cinderella (disambiguation).
Cinderkitty is Episode 2 of Season 1 of Hello Kitty's Furry Tale Theater based on the fairy tale of Cinderella. It was originally released on April 26, 1987. Instead of two stepsisters, like in the original story, Catnip plays Cinderkitty's only stepsister and a football game is added instead of a royal ball.
Characters
Story
Cinderkitty captures the heart of Prince Purrfect and becomes head cheerleader for the Royals football team, no thanks to her wicked stepmother and stepsister.
Gallery
Videos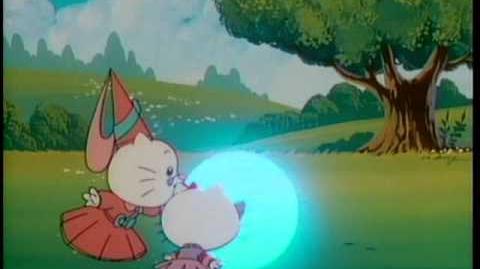 Trivia
My Melody appears in this episode as one of the cheerleaders but she doesn't have any lines.
Sources
Ad blocker interference detected!
Wikia is a free-to-use site that makes money from advertising. We have a modified experience for viewers using ad blockers

Wikia is not accessible if you've made further modifications. Remove the custom ad blocker rule(s) and the page will load as expected.