Ad blocker interference detected!
Wikia is a free-to-use site that makes money from advertising. We have a modified experience for viewers using ad blockers

Wikia is not accessible if you've made further modifications. Remove the custom ad blocker rule(s) and the page will load as expected.
Keroppi Hasunoue (はすの上 けろっぴ Hasunoue Keroppi) is a Fictional character created by Sanrio in 1987. He is a frog with big eyes and a V-shaped mouth. He lives in Donut Pond.
Fictional background
Keroppi's family name is Hasunoue [1], which means "on the lily pad." He enjoys swimming, baseball, playing with boomerangs, and singing. He lives with Pikki, his sister, Koroppi, his brother, his mother (a housewife and a professional chef), and his father (a doctor)in a house on the edge of Donut Pond, where a Wooden bridge connects the side of the pond and the island in the center.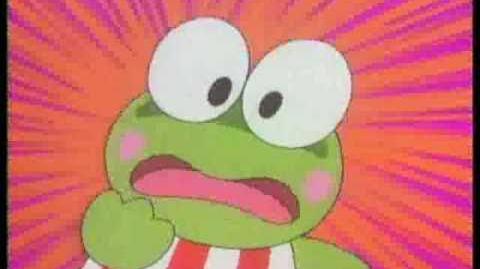 Keroppi's Friends and Family
Pikki - Keroppi's triplet sister. She helps out at their mother's restaurant.
Koroppi - The youngest of the triplets. Everyone mixes him up with Keroppi. (In North American dubs, his name is Curtis).
Keroppa - Keroppi's father. He's a doctor and can cure anyone.
Keroma - Keroppi's mother. She is a very good cook and owns a small restaurant.
Kerojee - Keroppi's grandpa.
Kerobah - Keroppi's grandma.
Keroleen - Keroppi's girlfriend, and Keroppi's only girl, is a natural peacemaker. She likes collecting Clothes and cooking.
Ganta - Keroppi's biggest-sized friend, who can transform himself into a rock. Though he thinks he is strong, he is afraid of the dark and heights. His name is Junk in the North American dubs.
Kyorosuke - Keroppi's tallest and thinnest friend, can see things over half a mile away. He can swim underwater. In the North American dubs, his name is Soak.
Noberun - He is a deep thinker and loves doing experiments. He is not much of an athlete. His name is Newton in the North American dubs.
Keroppe - Does not live in the Donut Pond originally and is a target of many Practical jokes.
Denden - A Snail and Keroppi's good friend.
Teruteru - A sunshine doll who can predict Weather. Her name is Ruby in the North American dubs.
Chippi - Keroppi's little cousin, who loves strawberries.
Merchandise
Electronic Games
Kero Kero Keroppi no Bouken Nikki
Kero Kero Keroppi no Daibouken
See also
External links