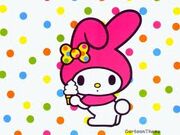 My Melody was born in the forest of Mari Land on January 1976. My Melody lives with her mother, grandmother and brother, Rhythm. She is honest and good-natured. Her favourite hobby is baking cookies with her mother and her favourite food is almond pound cake -- which she snacks on with her best friend, a mouse named Flatto.
My Melody Facts: Birthday: January 1976
Likes: baking cookies
Best quality: honest and good-natured
Ad blocker interference detected!
Wikia is a free-to-use site that makes money from advertising. We have a modified experience for viewers using ad blockers

Wikia is not accessible if you've made further modifications. Remove the custom ad blocker rule(s) and the page will load as expected.